ENVE SES 6.7 Carbon Clincher Tubeless Rim
| | |
| --- | --- |
| Availability: | Out of stock |
Striking the ultimate balance between weight savings, stability, aerodynamics, and rolling efficiency, the SES 6.7 defines Real-World Fast and raises the bar for modern aero wheel performance. Grams of rim, versus grams of drag, make the SES 6.7 the outright fastest wheel on the road.
The SES 6.7 has been aerodynamically optimized around a labeled 27mm tire since data shows unequivocally that in real-world riding conditions, a higher volume tire provides more speed, confidence, and control. As such, we developed the SES 27 tire to be the high-volume race tire for the modern road cyclist. Featuring a 23mm internal rim width, the SES 6.7 can be paired with a 25mm tire, but for those wanting to decrease rolling resistance and maximize speed, a 27mm-28mm tire is the optimal labeled tire width.
Like the rest of the SES wheel line, the SES 6.7 has been optimized for road tubeless performance and features a hookless bead design that allows for the precise rim dimensions required to achieve the best tubeless performance. To further improve tubeless tire and rim reliability, this aerodynamic carbon fiber wheelset features ENVE's patent pending Wide Hookless Bead, a design element at the leading edge of the rim that provides a more forgiving surface, that when impacted, will reduce the likelihood of pinch-flatting a tubeless tire.
ENVE Rim Comparison
The following table compares ENVE's rim brake models for a quick and easy analysis. For more information follow the link to our product specific page for the rim or contact us to get in touch with one of our professional wheel-builders.
| | | | | |
| --- | --- | --- | --- | --- |
| Model | Depth F / R | Ext. Width F / R | Int. Width F / R | Weight F / R |
| 6.7 SES Rims | 60 mm / 67 mm | 30 mm / 29 mm | 23 mm | 430g / 449g |
|   |   |   |   |   |
| Legacy 5.6 Disc | 54 mm / 63 mm | 28.75mm / 28mm | 19 mm | 450g / 470g |
| Legacy 7.8 Disc  | 71 mm / 78 mm | 29 mm / 27.5mm | 19 mm | 495g / 450g |
Wheel Building
We recommend that wheels built with this rim be assembled by an experienced wheel builder. We are happy to provide this service, and can provide helpful suggestions in hub and spoke selections. Please contact us directly.
 
Front
Rear
Weight
~430gr.
~449gr.
Internal Rim Width
23 mm
Extrenal Rim Width
30 mm
29 mm
Rim Depth
60 mm
67 mm
Bead Type
Hookless
Tire Type
Tubeless Ready
ERD (Effective Rim Diameter)
538 mm
526 mm
Minimum Tire Size
25 mm
Aero Optimized Tire
28 mm
Hole Count
24
Valve Stem Length
80 mm
80 mm
Tubeless Tape Width
26.5 mm
Tire Compatibility , see here

 

Tubeless Kit - Tape / Valves (6.7)

Included Accessories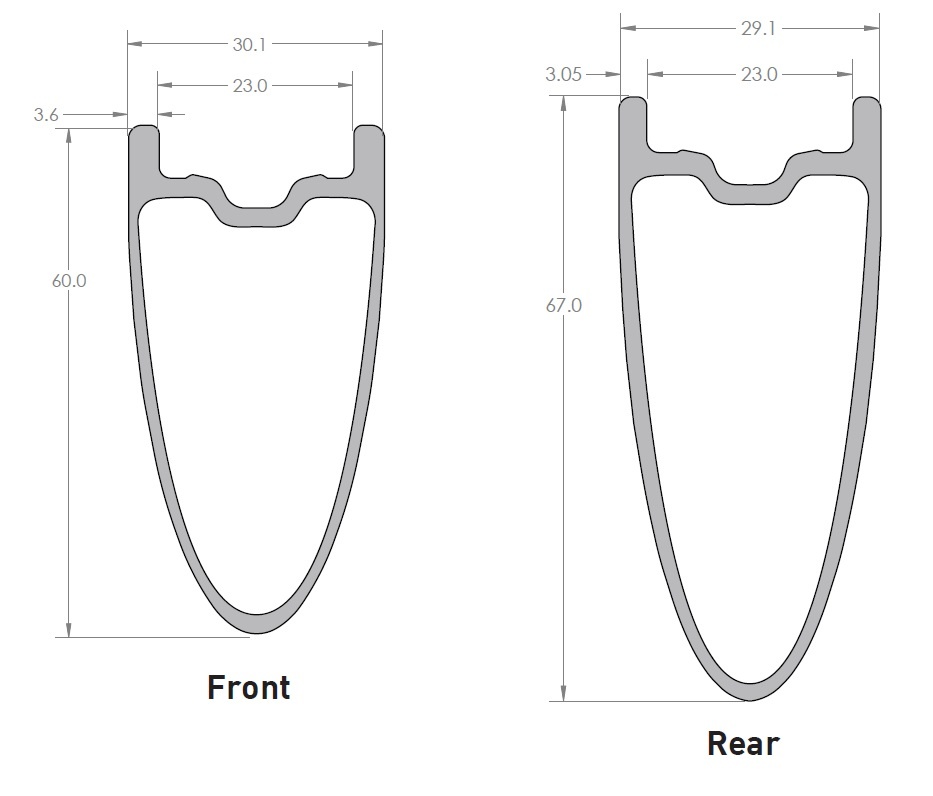 0
stars based on
0
reviews